A photo exhibition featuring 50 pictures of the beautiful country of Lao and its people is being held in Ho Chi Minh City.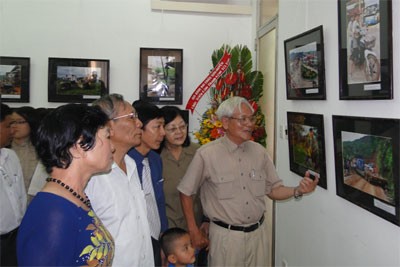 Visitors at the opening of the photo exhibition  (Photo: qdnd)
The photos were taken in Savanakhet, Vientiane, Luang Prabang, Xieng Khouang by journalist Hong Phuong, former deputy chairman of the HCMC Journalists' Association and former editor-in-chief of the Nghe Bao Magazine.
The exhibition titled "A Moment of Laos" aims to mark the 50th anniversary of the establishment of diplomatic relations between Vietnam and Laos, and the 35th anniversary of the signing of the Friendship Treaty between the two countries.
Photos will be on display at the office of the City Journalists' Association on 14 Alexandre De Rhodes Street in District 1 from now until July 22 and at the HCMC Photography Association on 122 Suong Nguyet Anh Street in District 1 from August 8-25.