A photo exhibition on former Prime Minister Vo Van Kiet and his revolutionary life opened in Ho Chi Minh City to mark his 86th birthday (November 23).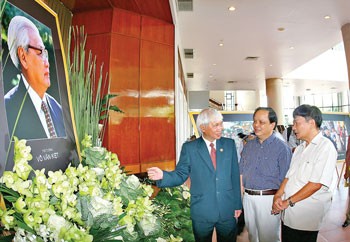 Mr. Phan Xuan Bien (L), head of the Education and Propaganda Division of the City's Party Committee and photogrpaher Minh Dao (R) at the exhibition.
The "Portrait of Late Prime Minister Vo Van Kiet" exhibition has 86 pictures taken by Minh Dao of the Vietnam News Agency, who was assigned to cover Mr. Kiet during his domestic and overseas trips between 1990 and 1999.
The exhibition is divided into six categories: Mr. Kiet's photos; his photos with Party and State leaders; his photos with foreign leaders; the late PM and industry; the late PM on trips around the country; and images of his daily life.
Among the highlights are photos of Mr. Kiet masquerading as an overseas Vietnamese to learn about the clearance of the Yen Phu dike in Ha Noi in 1996 and find out residents' opinions, his meeting with ethnic minority residents in Dak Lak Province and children in Binh Thuan and Hung Yen Provinces, and his reception for Cuban President Fidel Castro in 1995.
Visitors will also have a chance to learn about the late PM's revolutionary life.
These photos have also been published in a coffee-table book titled "Prime Minister Vo Van Kiet, Portrait of a Personality," released by the National Political Publishing House at the opening of the exhibition yesterday.
The display, organized by the Viet Nam Photographic Artists' Association, Mr. Kiet's family, photographer and journalist Minh Dao at HCMC Meeting Hall, District 1, will go on until November 23.
Mr. Vo Van Kiet, who passed away earlier this year, was prime minister from 1991 to 97.