An exhibition featuring 18 photographs representing a dialogue between war and peace, life and death, safety and risk, and ancient and modern opened at Ho Chi Minh City's San Art gallery on August 6.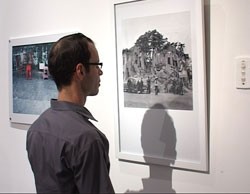 The exhibition featuring photos of war is opened on August 6. (Photo:TNO)
The highlights of "Everything Illuminate" are six photos -- Chu Chi Thanh's "Jane Fonda visits Nam Dinh textile city in 1972" and "Binh ferry's first quarter," Doan Cong Tinh's "Flowers bloom in a combat trench" and "Crossing dangerous waterfalls," and Vo An Khanh's "Temporary Army medical corps" and "Political course."
They were all photo-journalists during the American War.
The exhibition also features works by young artists like Le Hong Linh, Dao Nguyen Thach Thao, Ngo Dinh Truc, Binh Danh, Hung Tran, and Kevin German of the US.
It will remain open until September 24.