Vietnam is celebrating the 102nd birthday of the country's highest ranking General Vo Nguyen Giap (August 25), with a photo exhibition at the Exhibition Information Center in Hanoi on August 22.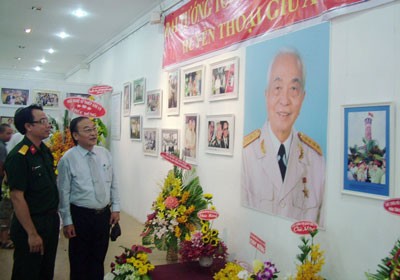 Visitors at the exhibition (Photo: SGGP)
The display titled 'General Vo Nguyen Giap and War Veterans' features a selection of photos by photographer Nguyen Trong Nghi.
The artist spent 102 days to meet generals, high-ranking military officers and war veterans who took pictures of or with Vietnam's great national hero. He has displayed in this exhibition the time and significance of the historical photos to viewers.
The event will run until August 26.
On the same day, another display on General Vo Nguyen Giap was held at the Ho Chi Minh City Exhibition House.
The exhibition presents to visitors 102 photographs by journalist Tran Tuan who spent 35 years of his professional life photographing General Vo Nguyen Giap.
All exhibits capture special moments in the life and revolutionary activities of Vietnam's greatly revered national hero.
The event will end on August 28.