Photo exhibitions on Ho Chi Minh City's development and integration are being held on Dong Khoi Street at Lam Son and Chi Lang Park to celebrate the National Reunification Day (April 30) and International Labor Day (May 1) as well as the 13th National Assembly and Peoples' Council elections.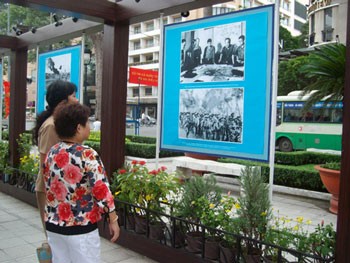 Photos are displayed at the Lam Son Park in District 1.
More than 100 pictures are on display, which are being exhibited in two parts at the Lam Son Park in District 1.
The first part, with the theme "liberation of the South and reunification of the whole country" includes photos of the peoples' heroic fight led by the Vietnam Communist Party and President Ho Chi Minh. The second part focuses on the city's significant achievements in various fields
While at Chi Lang Park, the focus is on 95 pictures on display to show the prosperous building and development of the city.
Seventy images of the outstanding development in economy, science, technology, culture, tourism, shopping areas, restaurants and health services in the city are on view along Dong Khoi Street.
The displays run until May 5.