Truong Chi Truc Diem, who was dubbed the "Best Advertising Model" of last year, will travel to the Philippines on Saturday for the 2007 Miss Earth pageant.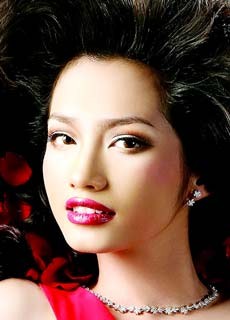 Truong Chi Truc Diem
Standing 1.72 meters tall and weighing 48 kilograms, the final-year marketing student at Cetana PSB International College is under exclusive contract to the PL modeling agency.
She's a talented singer who will not hurt her chances in the contest when she sings "What I Have Done" in English.
During their stay in the Philippines, Truc Diem and the other 89 Miss Earth contestants will campaign for environmental protection and visit places of historical and cultural significance.
The final of Miss Earth 2007 will be held at the Philippines University Theatre on November 11.
The dresses and outfits that Truc Diem will wear on stage are being made by the designer Truong Thanh Hai and the ACB Ao Dai shop.