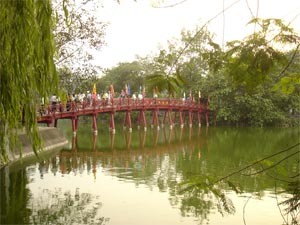 Beautiful landscape in Viet Nam (The Huc Bridge,Ha Noi) (Photo:VH)
Chinese and Vietnamese Photography Associations have just signed a cooperation agreement to help Chinese and Vietnamese photographers study and integrate into the development of photographic art in the world.
According to the memorandum, Vietnamese Photography Association will organize yearly fact-finding trips to China to visit, take photos and exchange experiences and vice versa.
Chinese Photography Association's visit opened new prospects of cooperation between the two sides.