Phuong Vy of Ho Chi Minh City won the final of Vietnam Idol yesterday by scoring 53.44 percent of the audience vote to beat Nguyen Ngoc Anh.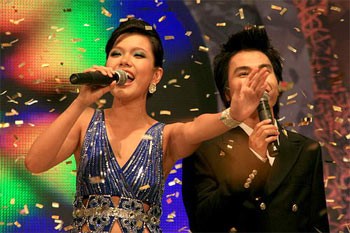 Phuong Vy (L) and Ngoc Anh

For her efforts, the 21-year-old won US$10,000 and a recording contract with Music Face, a label owned by the musician Duc Tri.

Vy will go on from here to represent Vietnam in the Asian Idol competition in Indonesia two months from now.

Runner-up Ngoc Anh, 24, is a mining engineer in Quang Ninh Province.

Just a few months ago, the two were waiting in line with thousands of other contestants hoping to audition for a show that promised to turn them into stars (although no one had really heard of it).

More than 6,000 people vied for a spot on the first Vietnam Idol, which came to a climax at Hoa Binh Theatre last night after six months of auditions and television rounds.

"The luckiest people in the competition are not the winners, but the Vietnamese music fans. The contest gave unknown young talent the chance to be discovered," said Tuan Khanh, one of the three judges along with fellow musician Ha Dung and the singer Siu Black.

Not everyone shares Khanh's opinion; many people think the quality of the show was poor and that it failed to unearth the truly talented. One thing it certainly did generate was controversy.

Others claim there is only one true music idol: Kelly Clarkson, the girl who won the first American Idol. They have even coined a term for subsequent winners and call them "one night idols".