A rope made of the skin of buffalo used during the anti-American Resistance War (1954-1975) was discovered by researchers of the Quang Tri Museum.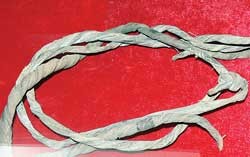 2m piece of the long rope
The unique rope was preserved at an ethnic people's house in Pa Tang commune, Huong Hoa District, Quang Tri Province for 40 years, according to an official of Quang Tri Museum.
Only a 2m piece of the long rope remains. It is believed that soldiers used this rope to pull artillery. The object will be displayed as part of an exhibit to mark the 40th anniversary of Huong Hoa District's liberation from U.S. forces.