Inspectorate of the Ministry of Culture, Sports and Tourism has directed related agencies to withdraw pirated DVDs of the movie 'Bui Doi Cho Lon' (Gangs in Vietnam's China Town) from the market.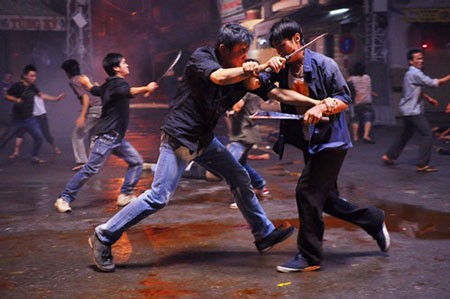 A scene in the film portrays gangsters killeach other without any intervention of police, residents or law forces (Photo: SGGP)
Although the movie was banned from screening, a draft version of the film was leaked and has been going viral on the Internet since July 5.
Later, this was made into DVDs and distributed in the market. Inspectors are now seizing as many as they can from markets and so far 54 pirated DVDs have been seized all the way from Hue City in the central province of Thua Thien-Hue to about 10 in Hanoi.
The DVDs are selling like hot cakes, with shops raising the price from VND10,000 to VND20,000 per DVD.
Reports of collection and seizure of pirated DVDs will be sent to the Ministry before July 31.
Related articles:
Police investigate leak of banned film on Internet

Vietnam bans screening of 'Bui Doi Cho Lon' for violent content