Te Hanh, one of the most prominent poets in Vietnam's New Poetry Movement (1932 - 1945), passed away on July 16 in Hanoi at age of 88.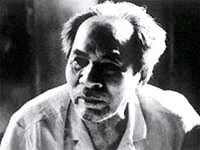 Poet Te Hanh
He gained success with sweet and tender poems about his love for the country, sadness of hopeless love and the separation of the South from the North after the Geneva Agreements (1954).

His poetry was published in a series of collections, including Nghen ngao (Emotion), Gui mien Bac (Sending to the North), Tieng song (The sound of waves), Hai nua yeu thuong (Two halves of love) and Khuc ca moi (New song).

He was also well-known for literature theory and criticism.

He also translated poems by French poets, including Paul Éluard, Louis Aragon and Vitezslav Nezval, into Vietnamese.

"Poetry must be close to the land and people, and changes of history of the country," he said.

Poet Te Hanh, real name Tran Te Hanh, was born in 1921 in the central province of Quang Ngai, and was early introduced to poetry, as well as taking part in the two resistances wars against the French and Americans.

He held important positions in Vietnam's Writers Association, such as head of the Foreign Relations Department (1968), chairman of the Translation Board (1983) and chairman of the Poetry Board (1983).

He was presented Vietnam's highest award, the Ho Chi Minh Award for literature and art, in 1996.