Unlike previous years, Vietnamese Poetry Day this year in Ho Chi Minh City does not focus on a place but divides into two meetings at the same time, one at the Cultural Palace of Labor and the other at Youth Cultural House.
The festivities will begin on Feb 23 night ( the 15th day of lunar new year) with a presentation of poems by students and poets from clubs in districts throughout the city.
The best will be selected for presentation on Poetry Day on Sunday.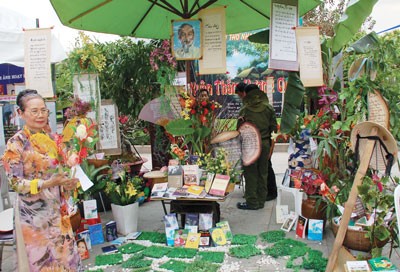 A gallery of poetry at Poetry Day of Vietnam in Ho Chi Minh City (photo SGGP)
Poet Pham Sy Sau, Deputy Chairman of the HCM City Writers Association, said the campus of Culture Palace of Labor is not alien to poetry, as poetry nights had been repeatedly held here several times in the past.
Meanwhile, another poetry program at the Youth Cultural House will officially start at 7 pm on Feb 23 with the participation of youth and young poets.
Phan Hoang, Head of young writers of HCMC Writers Association, organizer of the poetry night said "Youth will be the main focus of the poetry festival. This is a chance to honor the creativity of youth and encourage their enthusiasm. Now, to build up the country, young people are pioneers again."
At the program, youths will have the opportunity to enjoy poems and meet with familiar poets : Pham Sy Sau, who wrote "Writing in Cao Bang"; poet Phan Hoang with his famous poem " Songs on the island Son Ca"; Nguyen Cong Binh (awarded by Writers Association for the best poem of 2012) with the poem "Day off Mom"…
Besides they can also meet and exchange ideas with poets Le Tu Le, Truong Nam Huong, Huynh Dung Nhan , Truc Thuyen, Truong Chinh Tam ...
"We will also focus on patriotism and nationalism," Hoang said, "Participants in Poetry Day will enjoy a cultural festival with a chance to express their dreams and love and, together with other poets, to express their responsibility to the nation."
Young poetry lovers will have the opportunity to interact with a number of typical young poets of Ho Chi Minh City as Tran Le Son Y, Phung Hieu, Tran Huy Minh Phuong, Nguyen Phong, Viet ...
Meanwhile, the year's most-anticipated poetry festival takes place at the Temple of Literature in Ha Noi this weekend, when the 11th National Poetry Day coincides as usual with first full-moon of the year with the theme "Tuoi Tre Voi To Quoc" (Youth and the Nation).

In addition to the participation of poetry clubs from Ha Noi and surrounding areas, this year's event will also include the participation of students from 11 colleges and universities in Ha Noi and the northern province of Thai Nguyen, including Ha Noi Culture College, the University of Social Sciences and Humanities, the University of Technology, and Thai Nguyen University.
Poetry Day this year will also greet American war veteran and poet Bruce Weigl, whose has published several anthologies, including The Monkey Wars and Song of Napalm, which earned him a Pulitzer Prize nomination in 1988. He was a strong opponent of the American War in Viet Nam and feels a strong connection to Vietnamese literature.
The poetry festival will feature two stages, one for veteran poets and another for young ones.
In honor of the 70th anniversary of the Cultural Movement for National Salvation [against the French domination], the writers association will also exhibit works of writers, poets and cultural activists who have made contributions to the nation's independence cause.
Busts and famous works of 19 writers representing the movement will be on display around Thien Quang Well at the Temple of Literature.