Janusz Leon Wisniewski, a Polish physicist, chemist and novelist who is famous in Vietnam for two of his works of fiction, "Loneliness on the Net" and "Lover", has met his Vietnamese readers from Nov. 20-24.
He wrote "Loneliness" to fight the sadness of his private life and did not intend to publish. "All of a sudden, my novel Loneliness on the Net was released in 2001 and I first saw it at a bookstore in Torun, Poland," said the 55-year-old. The novel was eventually published in 11 countries, he added.
"I think scientists have deeper romantic emotions than those who work for social duties. Although I don't have any ability to invent a story, I collect from experience and real life," Wisniewski told the Daily.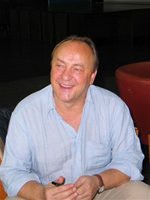 Author Janusz Leon Wisniewski in the meeting with Vietnamese readers on Saturday.
One of the best-selling modern novels out of Poland, "Loneliness" is about virtual love, sadness, desperation, loneliness, beliefs, flirtations on the Internet, wine, jazz and DNA. "This book is like a song that honors brainpower and knowledge. Loneliness exists from the bottom of every heart, especially of educated people, but all people wish happiness and hunger for love," said Le Hoang Anh, representative of Youth Publisher and editor of the translations of Wisniewski's "Loneliness" and "Lover".
"Loneliness is a horrible illness. The more our society and telecommunication systems develop, the more people feel lonely. The book reflects reality," Wisniewski said.
"Loneliness" was adapted into a dramatic film with Russian actors in February and it has been welcomed every night at one of the largest theaters in Saint Petersburg, Russia.
Translated by Nguyen Thi Thanh Thu and published in Vietnam in 2006, "Loneliness" was reissued seven times with over 10,000 copies sold and "Lover" went into third edition with over 6,000 copies sold as of 2008, Hoang Anh told the Daily.
The author is making his first visit to Vietnam at the invitation of the Polish Embassy in Vietnam and Youth Publisher. He goes to Australia today, November 24.