Ho Chi Minh City is wrapping up preparations to send performers to Hanoi for the first Cultural Day for Vietnamese Ethnic Groups to be held there on April 18 and 19.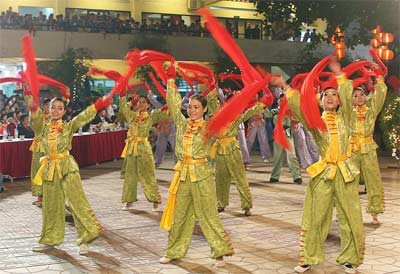 A Chinese traditional dance by Chinese-Vietnamese dancers in Ho Chi Minh City (Photo: SGGP)
The HCMC Culture Center will prepare the city artists who will perform at events meant for two ethnic groups - the majority Kinh and the ethnic  Hoa (Chinese-Vietnamese).
 
The events will include a traditional Kinh dance, the Bong Roi (performed in southern temple festivals), southern folk songs, traditional costume shows, and Chinese folk songs.
 
The HCMC Information and Exhibition Center will organize an exhibition titled "Cultural features of Hoa minority in Ho Chi Minh City.
 
A delegation from the city's District 5 will take 10 watercolor and calligraphy paintings done by Chinese craftsmen to the festival.
 
Four Chinese-Vietnamese artists, including Truong Han Minh, will do watercolor and calligraphy paintings featuring the Vietnam Ethnic Groups Culture and Tourism Village, the festival venue.
 
Vietnamese craftsmen Nam Dum will prepare a tray with five kinds of fruit, a tradition among people in the south to commemorate their ancestors during certain occasions like Tet.
 
Traditional Chinese and Vietnamese costumes will be on show, with all the performers from the city wearing them during the event.
 
HCMC ethnic events

Cultural events showcasing the country's ethnic groups' heritage are also scheduled to be held in HCMC soon.
 
The HCMC Information and Exhibition will open a photo exhibition titled "Cultural characters of the ethnic groups in Ho Chi Minh City" at District 5's Culture Center on April 15.
 
On display will be 100 color photos providing a peek into the lifestyles and cultures of four ethnic groups: Kinh, Hoa, Cham, and Khmer.
 
The center will also host a concert on the same day to honor the cultures of ethnic groups featuring Chinese traditional dances and music, don ca tai tu (a popular old southern music genre), and Cham and Khmer dances.
The HCMC Information and Exhibition Center plans to hold another photo exhibition about the nation's 54 ethnic groups at Lam Son Park in District 1 on April 15.


The Cultural Day for Vietnamese Ethnic Groups will be organized by the Ministry of Culture, Sports and Tourism.

Activities at the event will include a book, photography, and arts exhibition on various ethnic  groups, an exhibition of traditional handicrafts and cultural products, and traditional sporting activities.

Vietnam has 54 ethnic groups in all ,with the Kinh accounting for around 88 percent of the population.