The preparations on Nguyen Hue Flower Street kicked off on January 10, to present to the public the City's most spectacular display of fresh flowers, which will be officially opened on January 21.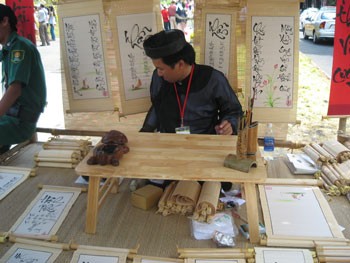 People visit Ong Do (calligrapher) Street to have auspicious words written in calligraphy in the hope of bringing good luck to their home. (Photo: KK)
This year's theme "Vietnam, my country" will be presented in four sections. Uncle Ho's yellow apricot garden; Dragon statues; Flowers and Vietnamese traditional cakes 'Banh Tet' (cylindrical glutinous rice cake) and 'Banh Chung' (square glutinous rice cake); and a couple of giant dragons made of bamboo and knitted and braided dried water hyacinths.
Each dragon will be 26 metres long and 5 metres high. Colorful flowers and gold coins will shower from their mouths, welcoming a beautiful and prosperous Tet Lunar New Year.

Various entertainment activities such as musical performances and puppetry will take place around the flower street.

The HCMC Department of Labor, Invalids and Social Affairs in cooperation with Dam Sen Park will organize the 'Banh Tet' festival from January 18-21. The event will open with a 'Banh Tet' cake making competition, in which 10,000 cakes will be baked and then distributed to poor families, disadvantaged workers and children in HCMC, Binh Duong and Binh Phuoc Provinces.

Tet Lunar New Year Festival 2012 opened at the HCMC Youth Cultural House on January 12 with a series of cultural activities such as a photo exhibition on the country's achievements and developments, Tet festivities and daily life in the city; display of newspapers and magazines; music and 'Cai Luong' performances; and an 'Ong Do' (calligrapher) Street.

'Ong Do' (calligrapher) Street will also be held at the HCMC Labor and Cultural Palace from January 12-22. Vietnamese people traditionally enjoy auspicious words written in calligraphy in the hope of bringing good luck to their homes as well as a form of decoration during Tet New Year.

A food fair titled "My homeland festival" featuring special dishes from various regions of the country was held at the Binh Quoi Tourist Area from January 11-12.