Around 4,500 boats will serve visitors coming to the Huong Pagoda Festival which opens on the sixth day of the first lunar month (January 28) in My Duc District in Hanoi, according to the festival organization committee.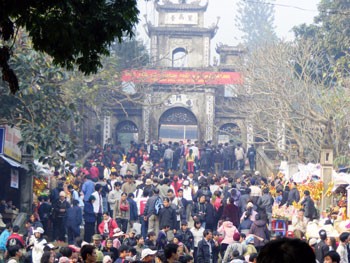 The annual Huong Pagoda Festival attracts thousands of pilgrims every year. (Photo: Sggp)

The festival organization committee and local authorities have invested in expanding the wharf and putting a total of 4,500 boats into service during this year's festival, presenting a year-on-year increase of 300 more boats.

A plan to set up shops and booths has been submitted to local authorities' for approval. Accordingly, they must be far removed from worship areas, not cause any traffic congestion or use loud noisy loudspeakers.

A waste treatment system will be put into operation during the festival. The organizers have also laid strict regulations to deal with violators and vandals at the holy Buddha shrine or creating a menace in the surrounding landscape and environment.

The People's Committee of My Duc District has also asked shops to pledge not to overcharge tourists and guarantee food hygiene and safety.

Entrance fee to the festival will be VND50, 000. The price of a return boat ticket is VND30, 000-VND40, 000 on the Huong Tich route and VND25, 000-VND30, 000 on the Long Van and Tuyet Son routes, applicable to both local and foreign tourists.

The festival is the biggest and longest annual festival in Vietnam that lasts for three full months during spring. The event attracts more than 1 million pilgrims and tourists every year.

The Huong Pagoda in My Duc district of Hanoi is traditionally a place where pilgrims go to welcome Tet Lunar New Year every year.