The Ministry of Culture, Sports and Tourism held a seminar November 14, "Changes in socio-economic conditions and the preservation of gong culture in Vietnam and Southeast Asia," in the Highland city of Pleiku as part of the ongoing International Gong Festival 2009.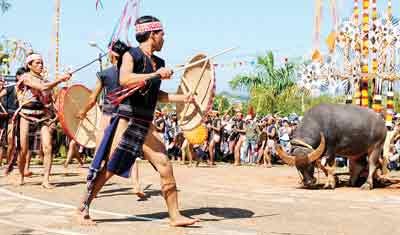 (File) Performers in traditional costumes participate at an ox-killing festival (Photo: SGGP)
Many international and domestic social scientists spoke about the social role of gongs and gong culture in Vietnam and in Southeast Asia, focusing on economic and social effects, as well as preservation and development of human values of the culture.
The presentations also mentioned measures to preserve and build on these cultural values. Participants stressed that keeping space for the gong could protect and preserve the special culture.
Master Linh Nga Niek Dam said ethnic minorities all have sets of gongs because the musical instruments are the soul of a group.
Gongs are regarded as the axis of the culture of rice, architecture, traditions, oral literature and food. It therefore needs to be protected with proper policies and public awareness to preserve the specific culture raised, he added. Otherwise, a group of ethnic people should be trained to keep the culture.
Vietnamese Prof. To Ngoc Thanh said teaching how to play gongs from generation to generation is very important; therefore society should pay attention to nurturing artisans as 'human treasures.'
Furthermore, schools should teach gong culture and folk traditions and cultures in curricula in a bid to cultivate young generations to have an understanding and sense of protecting the special musical instruments, Prof. Thanh said.
Artisans are currently performing gongs sets, statue sculpting and slaughtering an oxen throughout Pleiku, such as at Dong Xanh Cultural Park, Dien Hong Park, Ve Nguon Entertainment Zone.
In addition to performances of M'nong, Cham and H'roi artisans, Burmese players contributed with 70 musical instruments of the Mon people and Indonesian performers with ten instruments.
A photographic exhibition, "Space for the Highland's gong culture," was also opened in the province's museum the same day.
VTV 2 will broadcast the closing festival ceremony on November 15.

Related articles:
International Gong Festival opens in upland
Jubilant atmosphere covers highland city
22 ethnic groups to join Gong Festival
Vietnam's biggest gong to be displayed at festival