Many experts from the United Nations Educational, Scientific and Cultural Organisation (UNESCO) along with domestic and foreign scholars have discussed ways to preserve and promote folk values of Vi-Dam singing in contemporary society.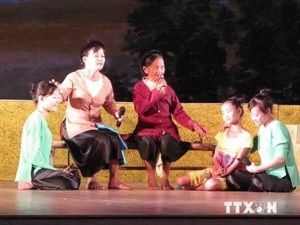 Vi-Dam performance in Ha Tinh province (Photo: VNA)
At a workshop held in central Nghe An province from May 14-15, delegates presented more than 80 reports aimed to evaluate true values of the thousand-year-old folk music.
On May 14, they made fact-finding tours to some Vi-Dam singing clubs in Nghe An and Ha Tinh provinces, and enjoyed a performance by artists of the Phu Viet club in Ha Tinh.
Vi-Dam singing, two kinds of folk music from Nghe An and Ha Tinh provinces, often reflects the working and cultural lives of people in the coastal provinces. The art is the treasured cultural heritage that features vocalists singing in a call and response pattern.
The workshop is part of Vietnam's efforts seeking UNESCO's recognition of Vi-Dam folk music as a World Intangible Cultural Heritage in 2014.
Vietnam now has eight examples of world intangible heritage listed by UNESCO, namely Hue's royal court music; Gong space culture in the Central Highlands; Quan ho (love duet) singing; the Giong festival; Ca Tru ceremonial singing; Xoan singing; the Worship of the Hung Kings, and Don ca tai tu (southern folk music).-VNA