Nearly 150 photos, documents and relics of President Ho Chi Minh from the Montreuil Museum and Aix-en Provence Archives Center are on display as "Ho Chi Minh; in the Hearts of the French." The exhibition is being held at the Ho Chi Minh Museum from Oct 26th to the 29th to celebrate the 60th anniversary of the President's visit to France.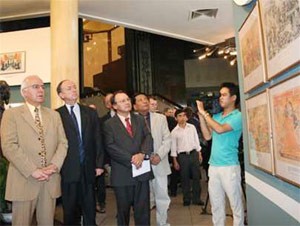 At the opening ceremony of the exhibition
"To French people, President Ho Chi Minh is a symbol of the struggle for national independence and freedom; peace and social progress," asserted Montreuil Mayor Jean-Pierre Brard.
A number of original documents currently published in France such as newspapers, magazines, photos, and research on President Ho Chi Minh and Viet Nam published in France are displayed. Also, several objects and images from the president's visit to France from May to Oct of 1946 were displayed for the first time.
The exhibition aims to show Viet Nam and France's historical relations and the Vietnamese-French friendship.