Before rocking the stage of Hoa Binh Theatre in Ho Chi Minh City on January 18, the Mai Vang (Golden Apricot) Awards 2008 has held a series of preview concerts.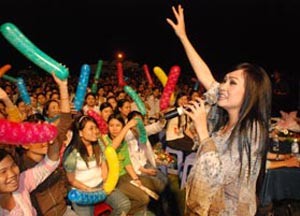 Phuong Thanh rocks the show at Linh Trung 1 Industrial Zone in city (Photo: Nguoi Lao Dong Newspaper)
The annual Mai Vang Award 2008 will stage four preview concerts for university students and three shows for workers, from this month, at venues throughout Vietnam.  
Artists who have confirmed their appearance in the preview shows include singers Dam Vinh Hung, Quang Dung, Dan Truong, Phuong Thanh, Ho Quynh Huong, Ho Ngoc Ha, Cam Ly, Lam Truong and Duc Tuan, as well as "cai luong" (a form of modern Vietnamese folk opera) artists Thoai My, Kim Tu Long, Tu Suong and comedians Hoang Son, Cat Phuong and Minh Nhi. 
The first two preview concerts at the HCMC University of Technical Education in Thu Duc district on November 7 and at the Can Tho University in Can Tho city on November 14, were judged a roaring success.  
The final two curtain-raising shows for students will be held at the Ha Noi National University of Education on November 28 and the Da Nang University of Technology on December 12.  
The concert in Da Nang city will be broadcast live on DRT of Da Nang Television Station and the Ha Noi show will be aired later on Ha Noi Television Station's HNTV channel.   
Mai Vang has also arranged concerts for more 30,000 Ho Chi Minh City workers. Following the first concert at Linh Trung 1 Industrial Zone on November 21, a concert will be held at Tan Tao Industrial Zone on December 5 and Tan Thuan Export Processing Zone on December 19.  
Both the Mai Vang Awards and the preview concerts have been organized by the Lao Dong Newspaper. It's the first time Lao Dong Newspaper has held preview concerts for audiences all over the country.  
The concerts are sponsored by the Tan Hiep Phat Group.