The opening ceremony of the annual Princess Huyen Tran Festival was held at the Huyen Tran Cultural Centre at the foot of Ngu Phong Mountain in An Tay Ward in Hue City on January 31.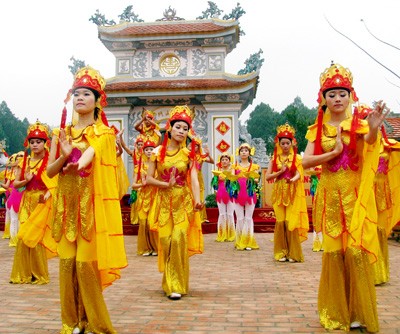 Dance performance at the opening ceremony of the festival. (Photo: Sggp)
Besides a spectacular and colourful opening ceremony, a worship ceremony to pray for the peace of the country and its people, and Tet Nguyen Tieu, a traditional cultural festival of the Chinese-Vietnamese community, will also be held.
Worshippers will offer flowers and incense in the Princess Huyen Tran Temple and also at the King Tran Nhan Tong Temple. Various activities such as folk games and calligraphy exhibitions will liven up the event, to which a large number of people have flocked to from around the country.
Princess Huyen Tran Festival is an annual event held on the ninth day of the first lunar month to show gratitude to Princess Huyen Tran for her dedication to the country. The festival will run until February 6.