A project titled Ve Di Tuoi Tho (Ticket to Childhood), dedicated to help handicapped children in Vietnam, was launched on June 2.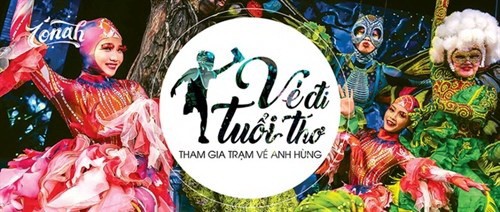 Worthy cause: Each ticket sold to the Ionah variety circus of the Ve Di Tuoi Tho Project helps fund operations for handicapped children covered under the project (Source: VNS)
The project is the result of cooperation between the Thien Nhan and Friends Programme, under the Asia Injury Prevention Foundation, and Ionah, a variety circus show.
Besides calling for contributions from all over the country from those generous enough to donate, Ve Di Tuoi Tho also aims to change the community's outlook on charity.
The Ionah variety circus show will contribute money earned from the sale of 1,000 tickets issued for this summer's performances for operations that are implemented within the Thien Nhan and Friends Programme.
The money from the tickets sold on June 2 was the first gift to the children covered under the programme.
The Ionah show is a combination of various entertainment arts forms, including circus acts, dancing - such as hip-hop and belly dance - and light shows. The show aims to provide the highest satisfaction to the audience.
To create an emotional experience, the show's performances are based on Ionah's love story. Each performer is a versatile artist who displays individual performance skills, as well as harmonious coordination with the other artists.
The Ionah show will perform every Tuesday, Thursday and Saturday at the Star Galaxy Theatre until August 31.
"We want the audience to realise tickets are not only pieces of paper. They can also bring happiness and belief," Tran Mai Anh, the founder of the Thien Nhan and Friends Programme, said.
According to Mai Anh, each ticket sold as part of the Ve Di Tuoi Tho p roject will help children suffering from the loss of their private parts to lead a normal and peaceful life.
The Thien Nhan and Friends Programme, which is part of the Asia Injury Prevention Foundation, was established to help Thien Nhan, a three-day-old infant abandoned in a deserted garden in central Vietnam, who had lost one leg and his private parts. He was adopted by journalist Tran Mai Anh, who has been by his side through multiple operations in the past nine years to help him lead a normal life.
The programme has invited doctors from Italy and America to participate in nine medical missions through June - to consult and conduct over 200 free operations for over 600 handicapped children nationwide.-VNA