More than 500,000 visitors made their way to the HCMC coffee culture week, December 13-16, to savor some brew and take part in a variety of exciting events.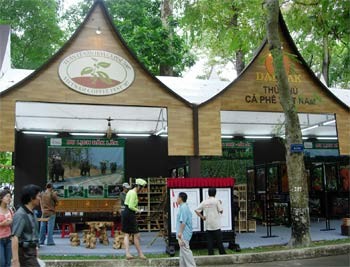 The coffe cultural week in HCMC.  (Photo:KK)
The "coffee culture week" made an outstanding contribution to honoring the economic value of the coffee tree, creating new coffee-drinking memes and familiarizing more folks with the ubiquitous buzz.
The event was a big chance for local enterprises to flog their products to their target markets of consumers and prospective partners or investors, said Dak Lak provincial Chairman Le Ngoc Cu at the close of events.
Hundreds of proposals for local enterprises to become distributors or suppliers were received from overseas firms, said Dak Lak provincial Department of Trade and Tourism Director Ly Thanh Tung.

India is now to buy 7,000 tons of Robusta and Indonesia to import 25,000 tons of first class Robusta, reported the Department of Commercial Promotion, Ministry of Industry and Trade.

Have you ever thought poor countries are planters and rich countries processors and the planters enjoy but a bit of world coffee industry profits?, historian Duong Trung Quoc posed a question at a talk during the festival.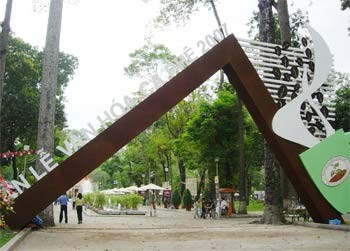 The giant welcome gate is made of coffee. (Photo:KK)
Viet Nam, the world's second largest coffee supplier, is the world's top exporter of the Robusta. But revenue earned is not remarkable. The coffee culture week is a good opportunity for visitors to learn about Vietnamese coffee. Local brand names are entering markets abroad and big world coffee industry names are arriving in Viet Nam, Quoc added.
Two records were set: world's biggest coffee mug and Viet Nam's biggest welcome gate.

The mug measured 1.6 meters in height and a full ton in weight. The gate, some 800 square meters and three tons of coffee beans and grounds, entered the Viet Nam Guinness Book Center (Vietbooks) as the nation's biggest gate built from coffee. More than 50 artisans took ten days to finish the gate inscribed with the word "coffee" in 30 languages.