An exhibition of 113 propaganda paintings by Vietnamese and foreign artists is being held at the Ho Chi Minh City Fine Arts Museum, located at 97A Pho Duc Chinh Street, District 1.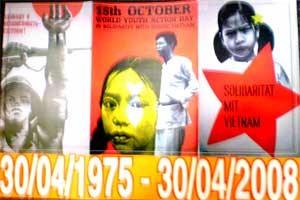 Pictures are on the display.
The display entitled "People Around the World Support Viet Nam's Fight Against in the Americans" features pictures of artists from France, Finland, Sweden, Spain, Japan, the United States and others that were given to the country during war time.
For this occasion, British collector Dominic offered the HCMC Fine Arts Museum ten propaganda paintings from his collection.

Painter, Nguyen Trung Tin who is a teacher in the HCMC Fine Arts University provided oil works to the museum. The city's Fine Arts Museum held a ceremony to commemorate artists who laid down their life in war time.