Viet Nam's publishing industry more than doubled its turnover in 2007 compared to 2006, according to the Ministry of Information and Communication. A total of 300 million books and 90 million cultural products were publish for a turnover of VND1,400 billion (US$87.5 million), an increase of 102 to 108 percent compared to 2006, according to the Ministry.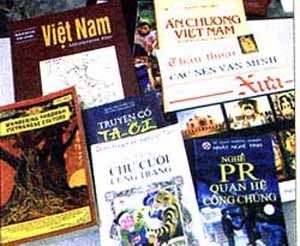 Several book titles published in Viet Nam
A meeting was held yesterday in Ho Chi Minh City by the ministry to review book publishing activity in last year and set targets for this year.

The Ho Chi Minh City Book Distribution Corporation (FAHASA) was the company with the largest turnover, an estimated VND700 billion (US$43.75 million), 50 percent that of the publishing industry.

There was a big gap last year between the country's export and import of cultural products. A total of 1.35 million units were imported, more than 10 times the number of exported units.

This year, local publishing houses will continue to sell equity so that more capital can be mobilized to allow publishing houses in less developed areas to establish better and more effective distribution networks.