A group of writers and artists are creating a unique calligraphy work with 1,000 poems printed on a 1,000-meter-long piece of silk in the central province of Quang Nam.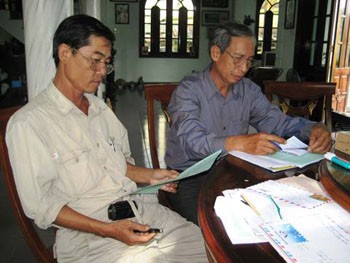 Poets select poems to include in a 1,000-meter-long calligraphy work drawn on silk in Quang Nam Province (Photo: Dat Viet)
Ho Trung Viet from Duy Xuyen District's Ornamental Creature Association said that poems were selected from 5,000 works nationwide and the silk was weaved in Ma Chau, a famous silk-weaving trade village in the district.
Each section of the silk calligraphy work will be decorated with patterns, images of landscapes, and cultural icons from all regions of the country.
It is expected that the work will cost VND300 million (US$16,000) and will be completed by May 2010.
The finished project will be registered in Vietnam's national records book and will be taken to Hanoi for the 1,000th anniversary of Thang Long-Hanoi.
The plan also is aimed at helping recover trade village Ma Chau which is at risk of disappearing.