The 10th Japan-Hoi An Cultural Exchange Festival opened at the Hoai River Square in the ancient town of Hoi An in the central province of Quang Nam on August 24.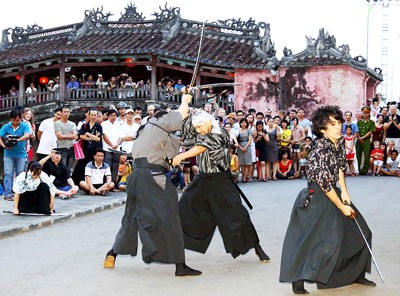 Samurai dance performance by the Kamui Samurai Sword Artists troupe.
The event aims to support 'National Tourism Year-Hue 2012' in the North Central Coastal Region, and the 39th anniversary of diplomatic relations with Japan (1973- 2012).

Yasuaki Tanizaki, Japanese Ambassador to Vietnam, expressed his appreciation of the great relationship between the two countries and with Hoi An in particular for the last 400 years.

Launched in 2003, the Japanese festival in Hoi An marks the friendship between the two countries, he said.

The event includes various activities such as an exhibition of 'Hoi An-Japan cooperation and exchange'; inauguration of Luong The Vinh Primary School that has been funded by Japan; introducing the history of Japan and Hoi An City in Vietnamese and English; performance of Japanese gastronomy, 'Night of Sushi'; Japanese and Vietnamese folk games; traditional martial arts performances; seminars; and music and art performances.

One of the highlights of the event was a samurai dance performance by the Kamui Samurai Sword Artists troupe on August 24. The group was established by Tetsuro Shimaguchi in 1998 for which Kamui created a unique style of sword movements and high-skill techniques without being tied to the traditional style.