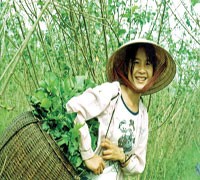 Ma Chau Village
The traditional crafts of mulberry planting, silkworms breeding and weaving have a history of more than 300 years in Ma Chau village, Nam Phuoc town, Duy Xuyen district, Quang Nam province.
It was sometimes thought that the silk village Ma Chau would perish because the products could not compete with domestic and foreign fabrics currently flooding the market.

In 1996-1997, Mr. Nguyen Van Huu, a descendant of a family with 9 generations engaging in mulberry farming, silkworm breeding and weaving in Ma Chau, pioneered his first investment in, and encouraged his family members to restore the traditional crafts.

According to the People's Committee of Duy Xuyen district, there are about 200 households in Ma Chau and Thi Lai Dong Uyen villages now living on this career. Currently products made by these two villages have been exported with the annual turnover of billions of VND.

Besides, the Tourism Department of Quang Nam province has chosen the craft village Ma Chau as a tourist place to link the two World Heritage Sites: Hoi An and My Son.