Scientists discovered a number of shards of ceramics and stoneware originating from ancient shipwrecks off the coast of Binh Son and Ly Son districts in central Quang Ngai province.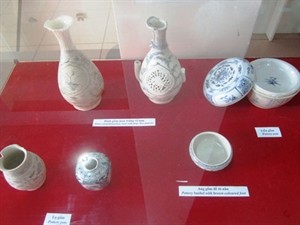 A lot of antiques were found underwater in central Quang Ngai province (Photo: VNA)
The broken ceramic and stone pieces are believed to date back to the 15th and 16th century, proving the locality's underwater cultural heritage.
Nguyen Tuan Lam, an expert at Doan Anh Duong Tourism Company, stated that since 1999, archaeologists discovered 10 shipwrecks near these districts.
According to experts, no place in the world has discovered quite as many ancient ships as Quang Ngai province. This discovery opened up research opportunities for domestic and foreign historians, Director of the Centre for Southeast Asian Prehistory Nguyen Viet said.
In future, Vietnam will also be able to build maritime transport museums to help develop archaeology, he added.
Together with the old shipwrecks, scientists found thousands of antiques underwater that date back to different historical periods, indicating busy trade activities in centuries past.
Over 500 artifacts from shipwrecks in central Vietnam are on display in central Quang Ngai City from October 14-17, including collections of ceramics from the 13th century, Champa stone items, and cannons and cannon balls from the 19th century.-VNA