The central province of Quang Ngai is hosting a four-day cultural exchange festival beginning September 5 to showcase Quang Ngai's cultural highlights and Jeju Island , a self-governing province in the Republic of Korea (RoK).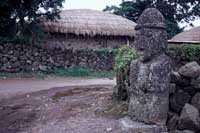 A stone statue on Jeju island
Local artists will recite traditional Vietnamese poetry, play music and exhibit local artwork. Panpipe and gong performances will be also held. Ethnic H're musicians will play kaleu folk songs accompanied by their traditional ching and aradon musical instruments.
Festival-goers can get a look at a traditional Jeju house, notable for lacking any front door or gate. A photo exhibition will flaunt Jeju's natural beauty with shots of Mount Halla, the RoK's highest peak, of the Dolharbang Grandfather Stone, Baeknok Lake, and Manjanggul Lava Tuber Cave and Mount Halla.
Jeju's Volcanic Island and Lava Tubes were recognised by UNESCO as a Natural World Heritage Site last year.