The Nam Dong Ke (Five-line Music) quartet won the Lan song xanh (Green Wave) 2007 music award for most favored band.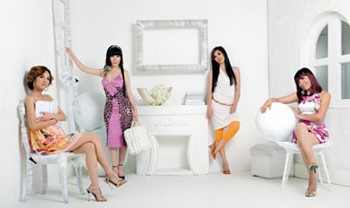 The Nam Dong Ke quartet
Nam Dong Ke, founded in 2001, is one of Viet Nam's most popular groups. The quartet consists of Lan Huong playing dan tranh (16-stringed zither), Bao Lan playing dan bau (a single-stringed instrument), piano and drum, along with flutist, pianist Thuy Linh and guitarist Hong Ngoc.
Their flair for acapella folk songs is splendidly revealed with the release of their third album, "Wings of the sun", a compilation of eight titles ranging from world music and new age to acoustic.
Top ten singers at the awards were Dam Vinh Hung, My Tam, Quang Dung, Phuong Thanh, Ho Quynh Huong, Lam Truong, Dan Truong, Tuan Hung, Ho Ngoc Ha and Ha Anh Tuan.
"Most favored musician" awards went to Duc Tri, Vo Thien Thanh, Yen Lam, Le Quang, Quoc Bao, Truong Le Son, Duong Cam, Nhat Trung, Pham Khanh Hung and Vo Hoai Phuc.
Further awards, including Vocalist of the year, Most Promising Vocalist, Most Effective Sound-Mixing Musicians and Best Studio, are to be announced in a later presentation at Ca Vang (Gold fish) Aquarium, 105 Tran Hung Dao Street, District 5, Ho Chi Minh City, on November 1.