Musical show themed "Enjoying Moonlight" with the World Music style performed by pianist Niels Lan Doky, percussionist Xavier Desandre Navarre and Vietnamese singer Tung Duong, diva Thanh Lam, will take part in Roskilde musical festival in Denmark on June 29-July 2.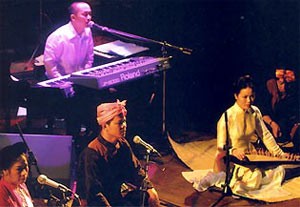 Musician Quoc Trung (organist) in "Duong Xa Van Dam"  show

"Enjoying Moonlight" was presented following the success of "Duong Xa Van Dam" ("The long odyssey"). The latter, in the World Music style, was so warmly applauded that Quoc Trung decided to have it performed for the Japanese Royal Family.
The style of "Enjoying Moonlight" is the combination of Vietnamese traditional and modern music. The show introduces famous songs that diva Thanh Lam has successfully sung in the new remixes.
Niels Lan Doky, who has cooperated with Thanh Lam to carry out her projects, will be the artistic director and producer.
"Thanh Lam will perform her old songs with the new style. We hope to bring an excellent show to domestic and foreign music-lovers", said musician Quoc Trung, leader of the show.
Before taking part in Roskilde musical festival in Denmark, "Enjoying Moonlight" will be introduced to audiences in Ha Noi on June 18 and Ho Chi Minh City on June 20.
Related articles:
Vietnamese singers to perform Pop, World Music