Dancer Oksana Nikiforova, of Russian and German descent, will be guest of honor at the Buoc nhay hoan vu 2011 dance competition, a Vietnamese version of UK's television program 'Dancing with the Stars'.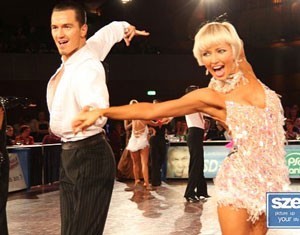 Dancer Oksana Nikiforova (R)
Oksana Nikiforova was world champion in Latin American dance in 2002, 2003 and 2004. She was also a teacher to Vietnamese dancer Khanh Thi, who is a jury member at the competition.
She will also perform with Vasily Anokhin, who won Dance Sport Championship in Estonia and Finland.
Buoc nhay hoan vu 2011 will take place in Vung Tau City on June 19 and broadcast live on VTV3 channel at 9 pm.
Buoc nhay hoan vu was launched in 2010 and is produced by Vietnam Television and Cat Tien Sa Productions, based on the world famous TV series 'Dancing with the Stars'.