A festival to celebrate the Red River Delta region's culture, sports and tourism entitled "Am Vang Song Hong" (Song Hong Echo) will kick off in Thai Binh City on October 14. The event is hoped to develop culture and tourism in the region, said Cao Thi Hai, head of the festival's organizing board.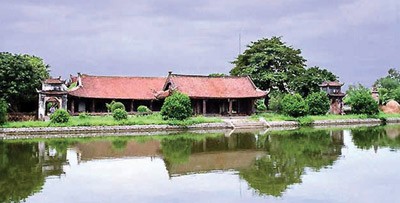 Famous Keo Pagoda in Thai Binh Province
The fair is expected to attract more than 20,000 people, including 1,000 artists and performers from 10 provinces in the region -- Bac Ninh, Hanoi, Ha Nam, Hai Duong, Hai Phong, Hung Yen, Nam Dinh, Ninh Binh, Thai Binh and Vinh Phuc.
Ms. Hai of the organizing board, and also Deputy Chairwoman of the Thai Binh Province People's Committee, said Thai Binh has now organized 20 fairs pertaining to culture, sports and tourism since 1990.
The Song Hong Echo festival, the largest event to be held in the 10 Red River Delta provinces, aims to introduce, preserve, develop and honor the Red River Delta region's national character.
Numerous activities are set to engage and entertain festival-goers including a photography exhibition, an agricultural contest for farmers, and folk games.
A seminar on developing tourism in the Red River Delta will also be held along with a meeting to review a cultural village construction project in northern Vietnam.
The highlight of the festival will be the opening and closing ceremonies where audience members will be dazzled with musical performances, traditional operetta, contests and games.