The remains of an ancient Cham tower have been discovered in Phong Le Village in Cam Le District in the central city of Da Nang, an area not yet known to have Cham relics.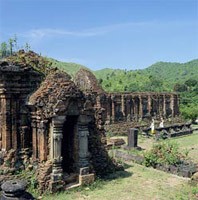 Cham tower in My Son, Da Nang Province
Archaeologists from the City's Museum of Cham Sculpture and Faculty of History at the University of Social Sciences and Humanity discovered the site last year when road workers dug up the ground.
However, until mid August they did not believe that what they had found was the remaining architecture of the structure, said Vo Van Thang, director of the museum.
"We have unearthed this vestige dating back 1,000 years and the foundations are still intact," he said. "Experts were surprised because this is the first archaeological vestige relating to Cham culture found in Da Nang and it's different from other Cham relics found in other regions. This discovery is very important," he said.
The Champa Kingdom originated in India and spread along the coast of modern day Vietnam between the 4th and 13th centuries. Cham culture, including Cham towers, folk songs and dances and traditional festivals, are an important part of Vietnam's cultural diversity.