Pham Duy, a renowned and prolific musician passed away on January 27 at his home in Vietnam at the age of 93.
Although doctors were at his care, musician Pham Duy could not overcome his ailment due to old age.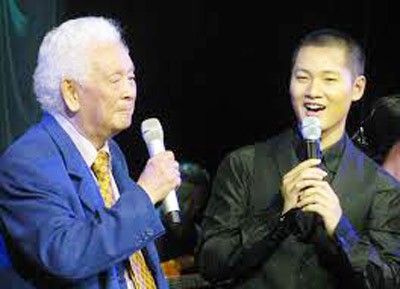 Musician Pham Duy (L) at a live show in HCMC (Photo: SGGP)
Musician Pham Duy Can was born on October 5, 1921 in Hanoi. He left a vast treasure of more than a thousand original songs, many of which are known and memorized by generations of Vietnamese.
His music is appreciated for having a hint of folk tunes of Vietnam, and his lyrics are among the best use of Vietnamese poetic rhythm in songs.
In 2005, Phạm Duy decided to leave for the US but later returned to live the remainder of his life in Vietnam and the Vietnamese government allowed him to regain his national citizenship.
Upon returning to Vietnam, he organized four live shows in Ho Chi Minh City and Hanoi as well as released tens of albums.
His death came after a month of his eldest son, singer Duy Quang, passing away on December 20 at the Orange Coast Memorial Medical Center in California in the US, after fighting with liver cancer.