French researcher Pascal Bourdeaux from the Academy of the Far East in HCM City will speak about the late ethnologist Son Nam, who, uniquely, was both a writer of fiction and researcher, in the city on Thursday.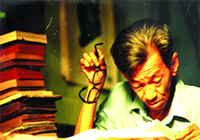 Writer Son Nam
Son Nam (1926-2008), real name Pham Minh Tai, is also considered one of the greatest ethnologists of Southern Viet Nam who devoted his life to studying the history, culture and daily life of the Mekong Delta.
A release from the organisers, the French Institute in HCM City, said: "All of his works had one goal – acquaint readers about his hometown.
"The use of dialects gives a particularly original colour to his writings, which reflect 'the river civilisation'."
A prolific writer, his most famous novel is Huong Rung Ca Mau (The Scent of Forest in Ca Mau).
The free seminar will be held at 3pm at the General Sciences Library, 69 Ly Tu Trong Street, District 1.