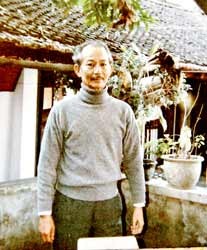 Professor Cao Xuan Hao
Mr. Cao Xuan Hao, a prominent linguistics professor, translator and musician passed away four days ago at the age of 77, after a stroke.
Mr. Hao was born in Hue City, in central Vietnam. His father, Cao Xuan Huy was a scholar versed in Chinese philosophy. Mr. Hao attended the Christian-run L'intitut de la Providence, where he was influenced by Western ideas and also became fluent in French.
After the August Revolution in 1945, which ejected the feudal regime and the French colonialists, he worked as a play writer at a military base in the Binh Tri Thien Battlefield. He later became a musician at the Fourth Interzone.
It was here that he composed lovely and poetic war-themed songs including "Ben Do Bien Khu" (The Wharf at the Military Zone), "Tinh Quan Dan" (Love Between Soldiers & People), "Lu Hanh" (Wandering) and "Mua Ve Chien Khu" (This Season at the Military Zone). In 1951, he was hailed for composing a brilliant choral accompaniment to famous composer, Luu Huu Phuoc's "Ngon Co Dan Chu" (The Democratic Flag).
Two years later, his career took a different turn when he registered to attend the Ha Noi University of Literature, to do a major in linguistics. Upon graduation, he began to deliver speeches on the relationship between music and language. He went on to teach vocal music at the Ha Noi School of Music [now the famous Conservatory of Music]. At the same time, he translated many books from French and other languages into Vietnamese.
In 1985, the Vietnamese Association of Writers bestowed on him a prestigious award for his lifetime contribution to the arts.