Khanh Hoa authorities have decided to stop the restoration work on the tomb of Dr. Yersin, which has been recognized as a national heritage, announced Le Xuan Than, Vice Chairman of the People's Committee of Khanh Hoa Province on January 12.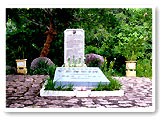 Dr. Yersin's tomb
Alexandre Yersin, a scientist whose research works have made substantial contributions to mankind, breathed his last on March 1, 1943, at the age of 80. In accordance to his last wishes, he was laid to rest on his stomach as an act of embracing the land he dearly loved.
When visiting Nha Trang, after seeing the great achievements of the Pasteur Institute during the last eighty years, visitors should not forget to thank a man such as Dr. Yersin. The institute has dedicated a special room to honor the scientist and his contributions to science.
As an act of respect to this great scientist, visitors should make a pilgrimage to his resting place in Suoi Dau, about 20 kilometres to the south and 500 metres off National Road 1.
Amongst an overgrown wild area, on the Institute's property, lies the scientist's tomb. Quite simple in structure, similar to his simple life and warm personality, it is made of cement and painted a light blue. On its surface is engraved a simple line epitaph: "Alexandre Yersin (1863-1943)".
In Nov 2011, Khanh Hoa Province allowed the Lac Hong Company to invest VND 2 billion on restoring the tomb of Dr Yersin. But then the plan was strongly opposed by the people of Khanh Hoa Province and the Ministry of Culture, Sports and Tourism.