Traditional culture has become more attractive in modern society, said folk music expert Nguyen Xuan Dien in a recent interview with Sai Gon Giai Phong Newspaper.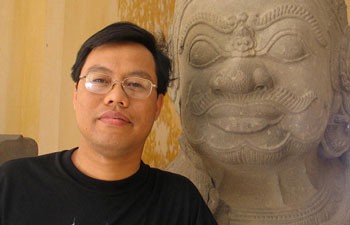 Ph.D. Nguyen Xuan Dien, a music expert
People enjoy time-honored folk culture because it brings them a feeling of psychological balance and a sense of peace and simplicity in today's modern world, the expert said. That's why traditional Vietnamese Ca tru music is still so popular, he added.
Dr. Dien is a devotee of Ca tru and works at the Institute of Chinese-transcribed Vietnamese Research in Hanoi.
"I am so happy to know that the Ministry of Culture, Sports and Tourism has sent a proposal to UNESCO to recognize Vietnamese Ca tru as a masterpiece of oral and intangible cultural heritage of humanity.
"The ministry and the people, especially the youth, have recently shown heightened interest in this traditional music and have established many Ca tru clubs throughout the country to restore and promote the valuable art as a Vietnamese cultural and music treasure," he said.
Ca tru is a special cultural heritage of Vietnam because of its diversified melodies, style, and performance characteristics associated with rituals and etiquette.
The ancient art, which combines music and poetry, also serves as reminder of famous poets like Nguyen Cong Tru, Cao Ba Quat, Tan Da and others.
Modern Ca tru, with only 15-26 melodies, is very different from the old style featuring 66 melodies. Most of the significant differences are related to musical space and time and performance methods.
Experts like Dr. Dien say that transmitting an appreciation of such time-honored music to younger generations is of the utmost importance.
And encouragingly, young people are responding with enthusiasm to Ca tru. In addition to taking part in Ca tru clubs, many youth also attend traditional music festivals or share folk music information on the Internet.
Ca tru thus deserves to continue to be promoted for its significant cultural value, said Dr. Dien.