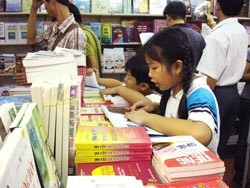 Up to 73 millions of schoolbooks are ready for the new school year. (Photo:VH)
As many as 200 sets of textbooks and school equipment for 5th grade were given to top pupils of poor family background in 22 primary schools in district 8, Ho Chi Minh City.
Those textbooks are the newly revised editions for the 2006-2007 school year.
Director of the Education Publisher, the sponsor, Ngo Tran Ai said that up to 73 million of schoolbooks were ready for the new school year.
Revised textbooks for the 5th grade will be available nationwide in May, 5, 2006. Many other textbooks will be published in mid-May to September 2006.
Around 1.5 million discount vouchers of 10 to 15 percent will be handed over to poor students in many places in the country. The estimated savings for the student families is over VND10 billion, he added.
The giving ceremony was held on May 4, 2006.