A storm of rock music will heat up My Dinh Stadium in Hanoi on January 11. This comes after successful nights in six cities and provinces from December 7to Januay 4.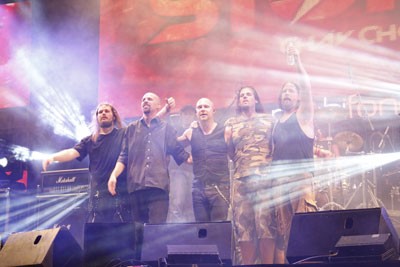 The Swedish band, Andromeda
The RockStorm 2013 show in Hanoi has the participation of the Swedish band, Andromeda and Vietnamese leading rock bands namely Buc Tuong (the Wall), Ngu Cung (Pentatonic), Microwave, KOP, Oringchains and Thuy Trieu Do (red tide).
The rock performing tour to six cities and provinces collected over VND1.6 billion from ticket sales that will go to the Operation Smile Viet Nam Fund, and to fund poor studious students in each of the cities.
The RockStorm 2013 tour concerts, this year themed "Burn with Aspirations", took place in Hai Phong, Hue, Da Nang, Bien Hoa, Ho Chi Minh City, Can Tho, and Ha Noi.
Rockstorm has been organized and sponsored by MobiFone since 2007.