A Vietnamese-American film director, Victor Vu, who gained fame from his last movie "Chuyen tinh xa xu" (Passport to Love) recently talked to SGGP about his upcoming tragedy, "Giao lo dinh menh" (Crossroads of Fate).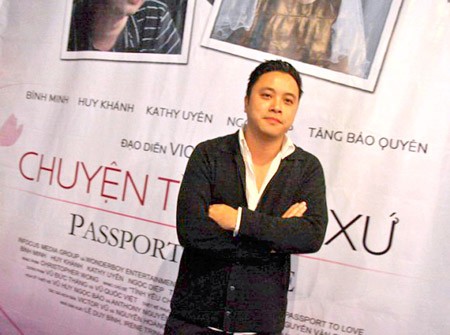 Victor Vu at the press conference for "Passport to Love," which will be in US theatres in October (Photo: SGGP)
Vu's ongoing movie project features a tragedy about the problems of social relationships. 
The Crossroads of Fate is about big change in the life of a married couple after a car accident.  
The husband is in a coma for a long time. When he wakes up, he comes to recognize the troubles in his relationship with family and friends. Many troubles come to his life and push the story to a climax.  
Spiritual matters are also woven into the film's fabric, the director said.  
In response to a question about whether his movie is a horror movie, Vu noted that he understands the limits of making a horror movie in Vietnam, so the film he decided to make was to be about spiritual life, not about spirits.  
Previously, Vu produced a horror movie called Spirits in 2004, a series of three ghost stories in the U.S. However, the movie has yet to be released in Vietnamese theatres due to some unexpected obstacles, the director said.  
Addressing a recent press conference, he discussed how he came to make Passport to Love with support from a U.S. distributor, the Everest Productions.  
Vu admitted there had been many obstacles, such as the mission of getting as many US cinemas to show his picture, which was very difficult due to the preference for Hollywood action or comedy films. 
He also noted that it was hard for his movie to find a theatre due to full screening schedules. 
Due to other logistical problems, his movie will be generally shown in areas with a large Vietnamese and Asian community, such as Orange County and San Jose in California, Houston and Dallas in Texas and Atlanta in Georgia.  
The five actors and actress in his most recent film, Binh Minh, Kathy Uyen, Huy Khanh, Ngoc Diep and Tang Bao Quyen, will also appear on the red carpet of the first three screenings in California, on October 8, 10 and 11.  
Passport to Love helped Vu bring home the consolation prize at the Canh Dieu Vang (Golden Kite) Awards 2009, hosted by the Vietnam Cinema Association. This is the first movie that Vu made in Vietnam. His previous two movies, including First morning in 2003 and Sprits in 2004, featured Vietnamese stories but were produced in the U.S.