A group of Nha Nhac artists or performers of the Royal Court music of Hue from the Traditional Hue Court Music Theater are in Gyeongju in South Korea, to participate in the Silla Cultural Festival from October 10-16.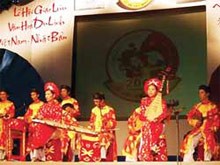 A performance of Hue Royal court music
The festival is held every October to honor the Silla Dynasty's historical and cultural traditions and past Buddhist legacy. It features Korean traditional folk games such as gungdo (Korean archery) and ssireum (wrestling), Korean-style swinging, and tug-of-war, as well as various shows and impromptu programs.
Vietnamese artists presented to audiences the traditional Nha Nhac, royal dances and folk entertainment during the festival.
Nha Nhac or royal court music of Hue was recognized by UNESCO as an intangible cultural heritage in 2003, and has been named on a 90-strong representative list of Intangible Cultural Heritages of Humanity.

Meaning 'elegant music', Nha Nhac refers to court music performed at annual ceremonies, anniversaries and religious events, as well as special events such as coronations, funerals or official receptions. Although its roots can be traced to the 13th Century, Nha Nhac reached maturity in the royal place of Hue under the Nguyen Dynasty (1802-1945).