Royal treasures are currently on display at the National Museum of Vietnamese History in Hanoi .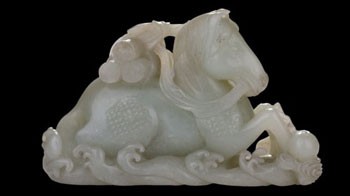 An exhibit is on teh display. (Photo: Tuoitre)
Among the 140 items from the Nguyen Dynasty (1802-1945) on show are gemstone-encrusted seals and a gold-inlaid sword that was donated to the nation in 1945.
The exhibition also includes a collection of gemstone artworks of famous landmarks and legendary characters. The artworks differ from those made in China and bear the distinctive hallmarks of Nguyen Dynasty artisans.
There are also eight figurines of Tao fairies made from white and grey gemstones that originated in China . They differ from Buddhist figurines, which are typically composed of green, red and brown gemstones. The Buddhist figurines also feature the typical high bun hairstyles and oval faces.
The exhibition also includes statuettes of the twelve animals of the zodiac dating from the 19th century. They are all depicted in a seated position holding a sacred object.
Nguyen Van Cuong, the museum's director, said the current exhibition would be followed by others displaying more national treasures, memorabilia and artefacts.

The Ancient Vietnamese Gems exhibition, which will run for several months, is the first of its kind to be held at the museum.