Russia's famous Samara symphony orchestra will perform Russia-themed pieces at the Ha Noi Opera House on November 5 and 6 in the Vietnamese capital and in Ho Chi Minh City the following day, which is all part of activities celebrating the 90th anniversary of the Russian October Revolution.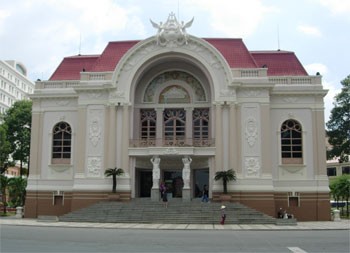 The HCMC Opera House (Photo:KK)
Tenor Anatoli Ponomareinko, sopranist Tachiana Gaivoronxkaia, pianist Irina Skobliakova Bui and musicians from the Vietnamese National Symphony Orchestra and the Opera-Ballet Theater will perform masterpieces by famous Russian composers such as Tchaikovsky and Rachmaninov.
Under the baton of Mikhail Scherbakov, director of the Russian orchestra, the show is part of the activities celebrating the Russian October Revolution which occured on November 7, 1917.

The Hanoians will also enjoy another performance on the 7 at the National Convention Center and residents in Ho Chi Minh City at the Opera House the same day, which will be both broadcast live on national channels.

"The Week of Russian films" will be aired on HCMC Television while exhibitions featuring the Russian October Revolution, the land, the people and the relationship between Viet Nam and Russia will also be held in Ho Chi Minh City.
Related Articles: