Russian pianist Ilya Rashkobskiy will perform with the Vietnam National Symphony Orchestra (VNSO) under the baton of Grammy-award winning David Alan Miller at the Hanoi Opera House on April 3-4.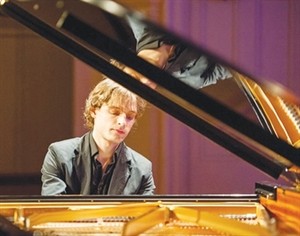 Pianist Ilya Rashkovskiy during a pre-concert warm up (Photo lect.co.nz)
The nights' programme will include three pieces, Sergei Prokofiev's Concerto No3 for piano; Samuel Barber's Adagio for string and Edward Elgar's Enigma variation.
Rashkobskiy, regarded as one of the most talented pianists in Russia today, will perform Prokofiev's Concerto No3.
Some of his most remarkable achievements include winning the eighth Hamamatsu piano competition in 2012 and Hong Kong International Piano Competition in 2005.
He was also among the top winners at the M.Long-J.Thibaud competition in Paris, Brussels' Queen Elizabeth competition, and the Arthur Rubinstein competition in Tel Aviv.
Rashkovskiy is well seasoned in collaborating with national orchestras, the Russian State Symphony, the Czech National Symphony and the New Japan Symphony are a few.
Miller's first performance in Vietnam was in 2013 with the VNSO at an event organised to mark 15 years of diplomatic relations between Vietnam and the US.
He received a Grammy in 2014 for his recording of John Corigliano's Conjurer, with the Albany Symphony and percussionist Dame Evelyn Glennie.
Before his appointment as Music Director of the Albany Symphony in 1992, Miller was an Associate Conductor of the Los Angeles Philharmonic.
He has worked with major orchestras across the US and frequently appears in the pit of theatres throughout Europe, Australia and the Far East.-VNA