Russian literature prodigy, Mikhail Samarsky has arrived in Ho Chi Minh City for exchanges and activities supporting blind people.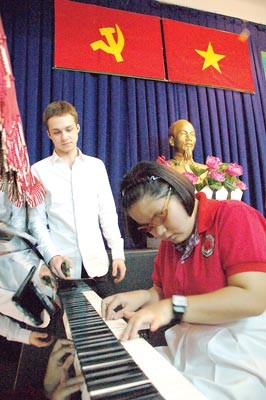 Mikhail Samarsky enjoys an art performance at the Nguyen Dinh Chieu School for the Blind.(Photo:SGGP)
The young Russian literature talent visited students at the Nguyen Dinh Chieu School for the Blind on December 27 and presented six computers to Huong Duong Audiobook Library with his own savings.
As schedule during his visit to HCMC, he will take part in exchanges with readers at Tri Viet (First News) bookstore,11H Nguyen Thi Minh Khai, district 1 on December 29; at Phuong Nam bookstore, Floor B2, Vincom mall, 72 Le Thanh Ton, district 1 on December 31; and at the Youth Cultural House, 4 Pham Ngoc Thach, district 1 on January 2 which will be aired live on HTV1.
Born in 1996, Mikhail Samarsky wrote his first novella, "On a Teetering Board Between the Hills," at the age of twelve. He published the novel "A rainbow for a friend" as early as he was 13. The book tells about adventures of Trison, a guide dog for the blind. It has been translated into languages likely English, German, Bulgarian, Swedish, Czech and Vietnam.
Besides writing, Samarsky has also participated in charitable activities, founding the Living Hearts fund for the blind, meeting with Russia's President D. A. Medvedev to raise issues for visually impaired people.
He is currently the first-year student of Lomonosov Moscow State University.