Road workers in Ha Noi have stumbled across the remains of what appears to be an 11th-century altar to two Genies of Earth and Agriculture, the two most important deities of agricultural society a thousand years ago.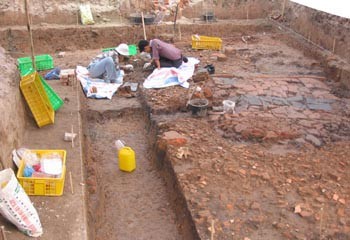 Archeologists examine the site
The discovery in Dong Da District's Nam Dong Ward was made during construction of a major road from Kim Lien to O Cho Dua.
Archeologist Nguyen Hong Kien, who is in charge of excavating the site, believes the structure to be what is called a 'national altar' from the days of King Ly Thai Tong.
Digging three holes in an area of 100 square meters, Kien's colleagues came across many pieces of early brick tiles and pottery in the first layer of soil.
Historian Le Van Lan is thrilled by the discovery. "In the old days, the national altar was truly sacred to the Vietnamese and Chinese peoples and their royal masters. Preserving the national altar is synonymous with preserving the nation," he said.
Work on the new road is continuing but the rate of progress has slowed down while the archeologists examine the site more thoroughly.