The film "Sai Gon, I love you" directed by Ly Minh Thang and Tai Do won the Golden Kite Award for feature movie at the ward ceremony which was held at the Military Theater in Ho Chi Minh City's Tan Binh District on April 9.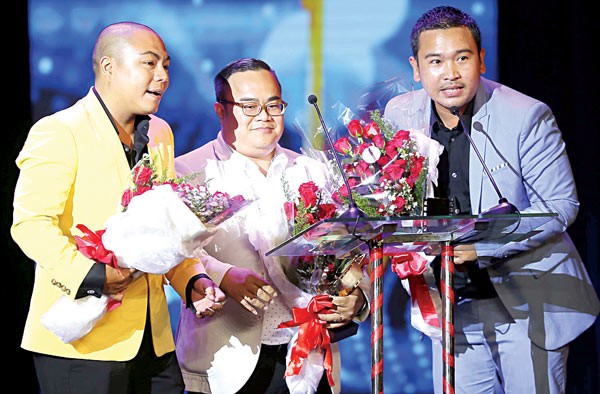 The filmcrew of the movie "Sai Gon, I love you" recives award. (Photo: Sggp)
The 90-minute film highlighting Saigonese and their culture and lifestyle features five couples who come from different places and backgrounds but chose Saigon (HCM City) as their home. The movie tells  stories of love, life and work that each couple faces. It's a movie starring famous cai luong actress Ngoc Giau, Meritorious Artist Thanh Nam, singer Doan Trang, actors Huy Khanh and Huynh Lap.
The organization board presented the Special Kite Award to People's Artists, directors Nguyen Khac Loi and Tran Phuong for their outstanding contribution to the Vietnamese movie industry.
The "Best director" was given to Vu Ngoc Phuong for his film"12 chom sao-Ve duong cho yeu chay" (12 constellations: Drawing lines for Love).

Actress Vu Phuong Anh, who plays the role of My in the film "12 constellations: Drawing lines for Love", won Best Actress; and Ha Hien bagged Best Actor for his role in the sport film "Sut" (Shoot).
In the category of TV Series, the Golden Kite award belonged to the film "Zippo, Mustard and You" directed by Meritorious Artist Trọng Trinh and Tien Huy.

The titles "Best actress" went to Meritorious Artist Minh Trang in the film "Chieu ngang qua pho cu" (remembering the old days) and La Thanh Huyen in the film "Zippo, Mustard and You"; while Le Hong Dang won the "Best actor" for his role in the movie "Zippo, Mustard and You".

The cartoon "Cau be Ma No Canh" (mannequin boy) got "The Best Animated Film" and "Best director" that was presented to Pham Hong son.

"A method for protecting against coastal erosion" directed by Phung Ngoc Tu received the Golden Kite award for the category of scientific film.

"The best documentary film" was given to "Hai dua tre" (Two children) by director Ta Huynh Tu.

This year's event received 145 cinematographic submissions in various categories, such as featured film, documentary, cartoon, and science; and 5 film studies and criticism.

The organization board also awarded titles, "Best Supporting Actress", "Best Supporting Actor", "Best cameraman", "Best musician", "Best Sound Mixing", "Best Screenplay", "Best production design" in every category.
The  Golden Kite  (Canh Dieu Vang) Awards is one of the annual the prestigious film award of the Vietnam Cinema Association.